One man who Adam Smith must have befriended and spent a lot of time with–at least during the first phase of his prolonged Paris residency from February to April 1766–was Horace Walpole (1717–1797). Why do I say this? Because Walpole meticulously kept a daily journal during his seven month sojourn in Paris,[1] the first of many visits Walpole would make to the City of Lights,[2] and the names of Adam Smith or his pupil Duke Henry appear over 20 times in Walpole's private papers.
But, who was Horace Walpole, and is he a reliable source? Among other things, Walpole wrote the first Gothic novel, operated his own printing press at his Strawberry Hill villa, and was a member of the House of Commons for three decades (1741 to 1768). He was also the son of Sir Robert Walpole (1676–1745), the 1st Earl of Orford, who is regarded by most historians as the de facto first Prime Minister of Great Britain.[3] Horace Walpole was thus a man of many talents and interests–a prolific letter writer,[4] a best-selling author, and a popular politician–he is, quite possibly, one the most fascinating men of letters of his era. But at the time of Horace Walpole's 1765/66 visit to Paris, which coincided with the first part of Smith's stay in Paris (February to April, 1766), Walpole's greatest claim to fame was his popular novel The Castle of Otranto, which was first published in 1764 and which is considered the first Gothic novel.[5]
Walpole was thus an important literary and cultural figure in his own right, and his Paris journal will help us retrace some of Adam Smith's footsteps during the first eight weeks of Smith's residency in Paris, i.e. until Walpole's departure on April 17, 1766.[6] (Walpole had arrived in the French capital on September 13, 1765,[7] several months before Smith's arrival.) I shall summarize the relevant parts of Walpole's journal in my next post.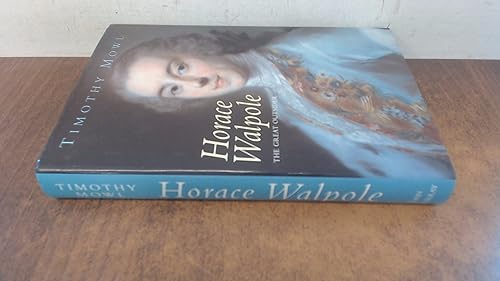 ---
[1] The entirety of Walpole's 1765/66 travel journal, along with his "written anecdotes" and his travel purchases, was eventually published in 1939. See Lewis 1939.
[2] After his first visit (1765/66), Walpole returned to Paris on four separate occasions: 1767, 1769, 1771, and 1775. See Lewis 1939, p. 257.
[3] He was not only Britain's first prime minister but also the longest-serving one, and his uninterrupted run of over 20 years as prime minister "is rightly regarded as one of the major feats of British political history." Speck 1977, p. 203.
[4] The corpus of his correspondence takes up no less than 48 volumes. See, e.g., Smith 1983.
[5] See, e.g., Reily 1978.
[6] Walpole's journal entry for that date reads: "Set out for England at 4 o'clock." Lewis 1939, p. 314.
[7] Walpole's journal entry for that date reads: "Arrived at Paris at 6 o'clock." Lewis 1939, p. 260 (footnote omitted).